Talent. Not everyone knows they have it, and not everyone who has it knows how to apply it. For those who have both natural talent, a knack for learning and the knowledge of where to apply it, success is guaranteed.
Those who were bound to be successful only to either pass away or leave the field they were talented in are often called the `What Ifs`. Len Bias was selected as the second overall pick in the NBA draft by the Boston Celtics in 1986. He was lost at the tender age of 22 two days later, having overdosed. The Virgin Islands` Timothy Duncan switched to (and was successful in) basketball after a hurricane destroyed the territory`s only swimming pool. He had been training for the 1992 Olympics, and had been doing very well.
Racing has its fair share of `What Ifs`. Where would Adam Petty be today if he hadn't crashed in qualifying? How about Jules Bianchi, who was in the middle of signing onto Ferrari when he died? And then we have Guido Falaschi.
Guido Falaschi had accomplished a lot by his 22nd birthday on October 1, 2011. He`d made it to his country`s top series at an incredibly young age, and already had a shot at the title in his sophomore year. In fact, due to how swiftly he had reached the top ranks and how quickly he had found success, he even had the nickname `The Little Prince`. Guido was living the dream.
Guido Falaschi

Credit to Diariopopular.com.ar
The 2011 Turismo Carretera was Guido Falaschi`s second full year in the world`s oldest continuous racing series. The Turismo Carretera, which started in 1937, has not seen an ownership change since 1939. Massive semipermanente circuits set up by linking some of Argentina`s backroads, often making for a track so long that for a 500km race a track usually only had to be lapped four or five times, dotted the early years. In 1967, a fatal crash halfway through the year made the series run all permanent circuits until year`s end. After a review, semipermanente circuits were allowed to stay, but they were ordered to decrease in size and include only asphalt (yes, dirt and gravel were common before this). The last of these circuits was run in 1997, after which it was all road courses and street circuits…plus the superspeedway at Rafaela. It has since become Argentine NASCAR, down to prefering fast and flowing tracks to tight ones and even doing double file restarts. Even to this day, however, the series has a rather low focus on safety and a high focus on action, which makes it thrilling to watch, but very unsafe.
Another interesting thing about this series` past were the co drivers. Co drivers were often seen in the days of semipermanente circuits, and many teams simply chose to keep them aboard even when they were no longer necessary after the switch. A double fatality in 2006 led to the series ordering the end of the practice immediately, though they relented when teams expressed contractual concerns. Soon the TC changed the day the ban would be put in place to December 31, 2007, with instructions to not hire anyone else if the co driver they had either had a contract that ended after 2006 or if their co driver left the team.
Argentina has three motorsport ladders to the top. The first one is the safest one, and drivers can stay in the 'rungs' of the first ladder's series if they wish. Of course, local events are always at the bottom. Ladder one starts with the open wheel Formula Renault or Turismo Nacional's production cars, then goes to a pair of touring car series in either Top Race V6 or TC2000, which again drivers can stay put in (Top Race V6 even has a Junior series for drivers who wish to stay in the series). At the top is Super TC2000, which is another touring car series, and Turismo Carretera's stock cars, and drivers can choose which one, though most drivers who take ladder one go with Super TC2000. It's usually slow progress on this ladder, but a driver can stay in the series they are in for as long as they want, and if they so choose, they don't even have to move up.
Ladder two is a risky one. It's for those who know for certain that they wish to race in Turismo Carretera. It also starts with the local events, and then it's off to TC Pista Mouras, which runs similar cars to Turismo Carretera. This is a feeder series, so it's difficult to 'stay put'. Usually, if a driver doesn't prove that they have what it takes, they move down a rung, and it's very rare to see a driver fall down a rung and then climb back up it. If they make it past Pista Mouras, it's off to another feeder series called TC Mouras. Those who do move up from that do so to TC Pista, which works the same way, and after TC Pista is Turismo Carretera. It's a tough ladder to scale, but those who do so are bound for success.
The third ladder has different rungs, but the same concept. It starts with a driver's local TC Provincial series, which of course runs tracks inside the province. Moving up brings a driver to a TC Zonal regional series, and if they prove their worth, it's off to Turismo Carretera. Guido took the first ladder, doing so when Super TC2000 was not yet a series (Super TC2000 started in 2012).
In 2008, Martin Falaschi, who preferred to go by his middle name of Guido, won the Argentine Formula Renault championship. The teenager had recently moved his way up from karting, and here he was, holding the trophy to what was the highest ranked national open wheel series in Argentina. He moved to Top Race V6 in 2009, and made a couple starts in Argentina`s NASCAR, Turismo Carretera. The cars used in Turismo Carretera, which is, as mentioned previously, considered a stock car series, are silhouette versions of the Chevrolet Chevy, Ford Falcon, Dodge Cherokee, and IKA Torino (which I believe is an Argentine subsidiary of Renault), all cars that were last sold to the public as `new` models in the 1970s. Guido dedicated most of his time and effort into Top Race V6 in 2010, though he did run Turismo Carretera that year as well. He had every intention of focusing on Turismo Carretera in 2011.
Guido again

Credit to the Twitter of Guido Falaschi
Top Race V6 runs silhouette cars that don`t really belong to any specific class. Actually, the closest comparison I could find is to a class that doesn`t exist anymore outside of special events, Super Touring, as some of the cars they run were also Super Touring cars, such as the Ford Mondeo and Alfa Romeo 156. For reasons that boil down to issues between the series directors and the parent company, the series held two seasons in 2010, one in the first half of the year (CA), and another in the second half (TC). Guido won the CA title, did well in the TC season, and, right when the season ended, got to work preparing for 2011.
Guido`s Ford Falcon

Credit to Diario Uno.
Guido Falaschi ran three series at the start of the next year, though quickly cut this to two after in fighting and surprisingly poor results led to him leaving Top Race V6 early on. He stayed aboard in TC2000, then the main Argentine touring car series, and seemed interested when Super TC2000, the new top Argentine touring car series, was announced to start in 2012. His success continued in Turismo Carretera, where he picked up two consecutive third place finishes at Neuquen and Termas Del Rio Hondo, followed a few weeks later by a victory at Junin.
Guido qualified for the Turismo Carretera Play Off, basically a Chase system with eleven other drivers (there are actually two non NASCAR series I know of that have a Chase system, the Turismo Carretera is one, the other is British Superbike with a system called The Showdown), and continued to net good results, enough for a championship eligibilty going into the penultimate race to be held on November 13th, 2011.
The Autodromo Juan Manuel Fangio at Balcarce is a track famous for low standards of safety in a country where tracks aren`t exactly very well built. Tire walls are very basic, and more often than not a simple earth wall or hillside serves as the outer boundary. Mauro Giallombardo in the #129 and Guido`s #016 ran nose to tail for most of the event, and approaching the final lap, Guido seemed set to look for a spot to pass. Unfortunately, they were approaching a slow car, #40 of Leonel Larrauri.
Entering a right hander, Larrauri noticed the leaders and made a slight left in the middle of the bend to get out of the way. Unfortunately, he was carrying too much speed, having made the slight left too early.
Ortelli hits Guido, Girolami struck the stricken #016 a few seconds later

Source unknown, likely by screencap.
Leonel ran up the circuit and into the wall. Out of control, Leonel bounced down the track. Giallombardo got by, but Guido turned hard right to get by Leonel. The #016 was too far past the point of saving, and the car plunged hard into the tires. The #17 Chevy of eventual champion Guillermo Ortelli hit the #16 and the Falcon was sent right into the middle of the track, where sixth place runner Nestor Girolami`s #25 Torino hit him at about a hundred and fifteen miles per hour. Neither Ortelli nor Girolami could do much to avoid the incident. The red flag was thrown immediately, and results were taken from the running order on the lap prior, meaning Mauro was the winner and Falaschi was second.
Mauro knew about Falaschi`s crash, but as he pulled into victory circle, he wasn`t quite aware of the severity. Massive crashes are frequently seen in Turismo Carretera even today, after all. The crash had been at high speed, but it wasn`t as fast a speed as it could have been. Girolami had also hit him in the passenger door, not the driver`s door. However, Guido was severely injured nonetheless, mostly due to the angle of attack. Girolami had struck him square on at an almost perfect 90 degree angle. Mauro quickly picked up on the crash's severity and did not spray champagne.
The remnants of the Ford
Credit to lanacion.com.ar
Falaschi had to be cut from the car and was rushed to hospital within ten minutes. Hearing that Guido, whose career she`d supported since he`d started karting as a child, had been injured, Falaschi`s mother was rushed into a private motorcade and followed, several drivers hot on their tails in their road cars. Falaschi was placed on a gurney upon arrival to the hospital and was wheeled in to the trauma unit, his mother right behind. Emergency workers were trying to revive him even as he was being rolled in. Quite a few drivers were in the waiting room outside, wondering what would come of him.
Those who travelled to the hospital await the news
Credit to diariolavanguardia.com
Forty minutes later, the confirmation came in that Guido was dead. He`d suffered a basilar skull fracture in the crash. He was the fourth driver in Turismo Carretera to die since the new millenium started, after Alberto Noya and co driver Gabriel Miller in 2006 at Rafaela, and Guillermo Constellanos at Rivadavia in 2007. Upon hearing the news, his team, HAZ Racing Team, withdrew from the series. J.M. Silva, his teammate, was out of a ride, and though he probably could have made a one race deal with another team, he chose not to.
A sort of modern sensationalism marked the delivery of the news. The news spread like wildfire, even the Washington Post running an article on it. The press wanted every single shot they could get, even in the hospital or during his eventual funeral.
However, this was all done out of grief and togetherness, it seems.
Argentina came together to collectively mourn the loss of Guido. Communities that were hours away from race tracks held candlelight vigils. Condolence letters arrived from all over the country. Hardened newscasters paid their respects on air, at least two of them bursting into tears while doing so. Argentina did this best to make sure that Guido Falaschi not only would not, but could not be forgotten. Most of the racing fanbase blamed themselves for cheering on a sport they knew to be incredibly dangerous. 2007 had seen Guillermo Constellanos die after a crash that only consisted of an out of control car spinning back on circuit and clipping Guillermo's car in the rear axle, sending him into the tires at 90mph. While this sounds terrifying, to a racer in a safe car on a safe track in a safe series, this shouldn't be a concerning accident.
Famous TV host Alejandro Fantino breaks down while talking about Guido
Screencap; The quote, which had been spoken by the show's co-host Marcos Di Palma, translates to, 'All of us are at fault for the death of Falaschi.'
In private, however, the blame game was underway, and the circuit at Balcarce was quickly blamed for the death. Balcarce is a low quality circuit with earth walls, hillsides, and flimsy tire walls greeting those who go off course. One driver noted that Guido was placed on a backboard, but wasn`t transferred to a gurney until he reached the hospital, and that he had been taken away in a van, not an ambulance. The track had a gurney and ambulance available, but didn`t use it. Apparently track workers had approached HAZ Racing Team and told them that they, the team, would have to pay extra for proper transport, and listed their price. What the price was was never made public, but HAZ refused to pay, so it must have been astronomically high. It's unknown if this would have saved Guido, but due to the low survival rate of a basilar skull fracture, it's very unlikely.

Credit to diariolavanguardia.com
This is one of the most preventable crashes I have ever seen, as Turismo Carretera, while it has without a doubt improved over the last few years, has seen many fatalities in the past. For reference, NASCAR has seen 28 driver fatalities and 8 non-competitor deaths since it started in 1948. From what I could gather, since it came around in 1937, Turismo Carretera has seen 131 competitors and 156 non competitors die in a race, 287 in all. 7.97 times how many NASCAR`s Cup Series has seen. One can only hope that Argentina improves its safety standards and this doesn't happen again. Balcarce hasn't been on the schedule since. Fingers crossed it never returns.
Rest easy, Guido.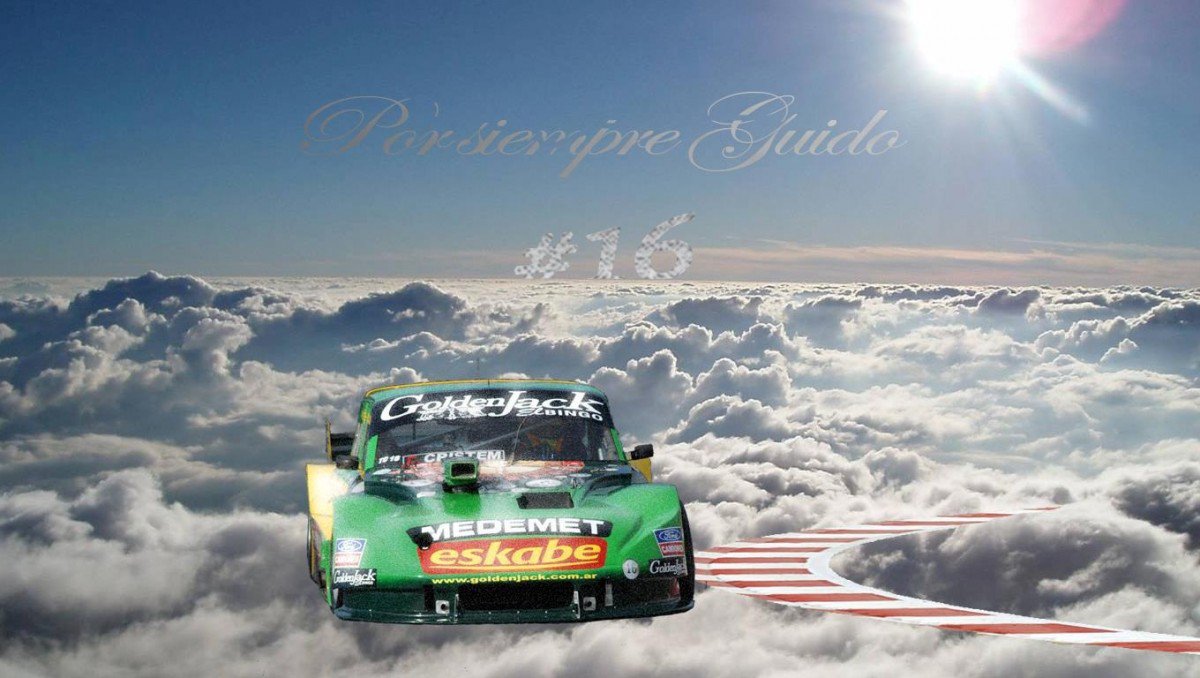 Credit to Twitter; The message translates to, 'Forever Guido'