39. Betting It All On The Engine's Roar (FIA GT World Cup, Macau, 2016)
Well, I suppose that works…
Laurens Vanthoor probably won`t forget his most recent victory anytime too soon.
The GT World Cup is a race that was started in 2015 at Macau. The qualifier is 12 laps of the long and twisty street layout, while the big race is 18 laps. It brings together sports car drivers from several different series (mostly Blancpain, but with a few GT Asia, Australian GT, and British GT drivers). Macau`s highway section allows for some very high speeds to be reached, and the backside of the course is not only slow and thin, but it`s full of elevation changes.
One of the more famous turns at Macau is Mandarin, a full speed right hander. Massive crashes have occurred here, including a fatal crash in 2012 which saw Phillip Yau go full speed into the wall in an old WTCC car during a touring car support event. A chicane is not an option, however, as it didn`t work with Adelaide`s eighth turn, which is actually quite a bit slower than Mandarin, nor is a tire wall, which will send cars back in front of the field in what`s already a blind turn. Crashes here are, as you can imply, very vicious, but sometimes they are spectacular.
On lap six of the Main Race in 2016, Earl Bamber in a Porsche made a move and made it stick heading towards Mandarin. Laurens Vanthoor, of Belgium, completely missed the apex of Mandarin while attempting to surge his way back on past Earl Bamber, and off into the barrier he went. And then…this.
Laurens blew over, sliding the Audi R8 LMS ultra on its lid down the highway. He scrambled out unhurt, but the race had to be halted. It would not resume, and, to get results, officials reverted to the running order on lap five, the last completed lap (which is what the FIA rulebook says is to be done if the race has to be called early). This move gave Laurens Vanthoor the victory.
…Wonder if he did this on purpose…probably not, actually.
38. Where`s The Leader? (F1, Monaco, 1982)
Hey, where`d everybody go?
Monaco has had some interesting years in the past. Never mind the fact that it`s a circuit that F1 would not be allowed to race upon if it was new (…then how the hell did Baku get approved? I don`t get it…), Monaco…you know what, I think I just dug myself into a grammatical hole, let`s just get to what happened in this race.
That was supposed to be humorous, not me being lazy with my dictation and syntax. Just making sure that's understood.
Alain Prost and Ricardo Patrese led most of the way. On lap 74 of 76, Prost crashed in the Chicane Du Port out of first. The next lap, Patrese spun in Loews, and took awhile to get refired and even longer to find a good place to turn around.
This gave Didier Pironi the lead, with Andrea De Cesaris not far behind. It would have been an emotional win for Pironi, who had just lost his teammate the race prior. Unfortunately, Pironi ran out of fuel in the tunnel on the final lap, and before De Cesaris could even take first, he ran dry.
By this point, James Hunt, the commentator, was getting impatient. With Prost crashed, Patrese stalled, and Pironi and De Cesaris out of gas, Derek Daly`s destroyed car was to take the lead, but he blew his gearbox before even starting the last lap, and thus, one of the best lines in racing history was uttered by Hunt, `Well, we`ve got this ridiculous situation where we`re all sitting by the start finish line waiting for a winner to come past and we don`t seem to be getting one!`
Patrese managed to get his car rolling downhill and got going, eventually crossing the line in first. Guys, this is Monaco, the most prestigeous race on the schedule! Why don`t you want to win?
…As for the running order…one lap off were the stalled cars of Pironi and De Cesaris, still given the second and third spots respectively, Nigel Mansell, Elio De Angelis, and Derek Daly, who was two laps down and stalled on the track as well, rounded out the points, with Alain Prost in seventh. Only five cars were technically running at race`s end…which is not the worst* it`s ever gotten, by the way.
37. So Close, Yet So Far (IRL, Texas, 2001)
Well, that was embarrassing. Both for me and them.
Champ Car* and Indycar merging in 2008 saved American open wheel racing in the eyes of some, and ruined it in the eyes of others, but something most people can agree on is that the early days of the IRL were absolutely terrible. Poor organizational decisions, HORRIBLE track choices (one of which was Dover), and little regard for safety made the IRL a complete and utter disaster. While Indycar is now a thrilling series to watch (whether or not it`s enjoyable is up to you), from the day it began in 1996 it was unbearable. Again, it`s debatable as to when it improved, or if it was just CART getting worse with several ridiculous and sometimes horrible crashes, decisions by the high ups that would make the day`s IRL or even present day NASCAR blush, and several last minute race cancellations, such as Hawaii in 1999 (which was a no points race), Texas in 2001, and Fontana in 2003.
But again, the IRL had so many faults that calling it `better` would be an empty argument, as one thing CART at least attempted to focus on was safety. Terrifying accidents were a common occurrance early on, and while a certain crash at Atlanta (…again…) comes to mind, there`s nothing like the leader coming up into your path…
IRL used to run two Texas races for some reason, and during the first of the year in 2001, we got a glimpse into the eyes of a driver when being blindsided. Greg Ray dominated most of the race, but with a bit under five to go, was starting to fall back, with Scott Sharp and Eddie Cheever, Jr. on his tail. An on board shot of Cheever was being shown on the backstretch…
SURPRISE!
Greg Ray came up on the slow car of Robbie McGehee on the backstretch. Ray ignored the lane McGehee had given him in the middle and instead ducked low. Ray, famous for a win or die trying attitude and wanting to prevent a side by side battle between himself and the fast approaching Scott Sharp, ducked to the inside of McGehee off of two. McGehee noticed this and held his line, but Ray shifted back out a little too early, sending himself into the wall and McGehee straight into Cheever, but missing Sharp, who won under yellow. Greg Ray and Cheever were unhurt. McGehee was battered, but all in all okay.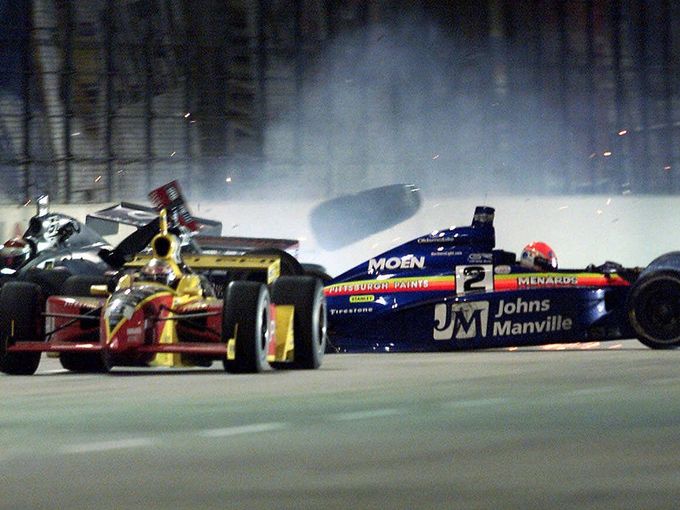 36. Return To Zero (Blancpain, Spa, 2011)
Upside down in the pit lane? Really?
Nikolaus Mayr Melnhof of Austria, Eugenio Amos of Italy, and Germany's Prince Albert Von Thurn Und Taxis, a billionaire leader of one of Germany's Houses, came together for the 2011 24h of Spa in a Lamborghini Gallardo. All are talented drivers, especially Prince Albert, who despite having an incredible amount of money (2.5 billion US Dollars, last I checked) is very good behind the wheel. Unfortunately, their effort ended just past the second hour.
Spa has two pit lanes, the F1 pit lane, where cars enter off the chicane and exit off of La Source, and the regular pit lane, which is entered off of La Source and exited off of Eau Rouge, with an access area lasting through Radillon. If the event has a large field size, such as the Spa 24h, the pit lanes are combined.
Entering the pit lane too quickly, Mayr Melnhof slid his car on the wet access road. The car shot across the grass and struck a barrier right in front of the marshals, flipping the Lamborghini onto its side and, say it with me, because I know I say it a lot, WARRANTING A SAFETY CAR.
…Mayr Melnhof was okay.
How do you flip at pit entrance…?
35. Screw The Rules (F1, Hockenheim, 1977)
…I have connections!
Remember when Brett Bodine failed to qualify for the Brickyard 400 by 0.001? Yeah, that stunk. You know what he did after that?…Probably cry, but he accepted his failure to make the show. He didn`t take to the track anyway. Take notes, Hans Heyer.
By no means was Hans Heyer a bad driver. In fact, he was an excellent touring car driver, winning the European Touring Car Championship in 1974 and consistently running very well in his home country`s national leagues. However, I think someone failed to understand that there exist very few drivers who are excellent in multiple types of cars. And Heyer was not one.
Heyer was picked up by a backmarker team running a one year old Penske chassis in 1977 for the German Grand Prix, likely on the basis of his experience in racing as a whole and his familiarity with the track and not much else. Penske`s F1 team was okay, netting a win in 1976. However, an excellent F1 chassis should be competitive for at least another year or two. The chassis' inferiority come 1977, coupled with a driver who didn`t have very much experience with open wheelers and a team that didn't know what they were doing, led to Hans failing to qualify. In fact, his best lap in qualifying was four tenths too slow, a massive margin in racing. It probably would have been worse if he didn`t know the track so well. So now what? Did he go home?
Yeah, no. That`s not him. He wasn`t going to spend his country`s home race flippin` burgers. Hans wanted to compete in his home race, and, to the knowledge of very few, he hopped in his car and took to the circuit. It`s unknown as to whether or not the team knew about this (the answer is pretty obvious, but out of decency and lack of physical proofI will not state what it is). As for whether the officials really failed to notice or Hans, who knew the track marshals very well, simply asked them to turn a blind eye, I won`t make an assumption again out of decency, as again I lack proof. In any case, it promptly lasted ten laps before breaking down, and he was DSQ`d. Heyer, who would find further success elsewhere, did not race in F1 again.
Brilliant.
Absolutely brilliant.
34. Melody Of Not Slowing Down (CART, Surfer`s Paradise, 2002)
…This'll be a long one.
CART was the go-to series for American open wheel racing for many years. A breakaway series called the IRL, the Indy Racing League, got started in 1996, but CART was still going strong, despite some bizarre calls by the officials now and again. On the other hand, the IRL was barely afloat. Sure, it sanctioned the Indy 500, but not much else. Starting in 1996, though, the two had so many failures for a couple years that they cancelled each other out.
1996: CART had the start crash at Michigan, which was supposed to be a prestigious event; IRL had Scott Brayton's death, which happened in Indy 500 final practice after Scott had already won the pole
1997: CART had the Vancouver broadcast, one of the worst in history; IRL had the 'wrap around' schedule idea (in which the season started in fall 1996 and ended at the 500 in May 1997) and the promoters option fiasco* at Indy
1998: CART had the death of three spectators at Michigan, after which they did not stop the race; IRL had the crashfest at Dover
1999: CART had the death of Greg Moore at Fontana, the second of the year and one that, besides being fully preventable, didn't even end the race (Richie Hearn came close to crashing in the same manner later in the event); IRL had Dover again and Charlotte, in which a crash killed three spectators and the IRL cancelled the round to save face
By 2000, neither were doing well. But then, a miracle happened. The IRL ran an excellent, excellent race at Texas that summer, saving not only the IRL, but the Texas Motor Speedway, which was starting to be ignored by the local populace only a few years after it was built. CART didn't do much in 2000 whatsoever.
In 2001, the IRL kept its nose clean, but CART had two controversies: the cancellation of a race at Texas after qualifying due to driver safety (they were hitting some incredibly high G-forces for very long periods of time) and the crash of Alex Zanardi at Lausitz, who was struck at full speed by Alex Tagliani after Zanardi spun out. Zanardi survived, but he lost both his legs.
The events in Queensland in 2002 spelled disaster for CART. In this race, a massive downpour struck the tight street circuit, yet the race continued on as planned, leading to…this.
While admittedly this was an accident in most senses of the word, as Queensland couldn't just have been pushed off until the next day (the deconstruction of street circuits usually starts immediately after the race ends, and the longer it takes to take apart the circuit, the more money the city loses), fans were still annoyed to see the race going behind the safety car again. Eventually, CART decided that the race would be cut from 70 to 50 laps, then announced at the possible last second that it would be cut further from 50 to 41. In the end, it ended up lasting 40 laps, mostly behind the safety car. CART's uncertainty over when to end the race cost them many fans and even a couple teams, and it heavily contributed to their eventual buyout by the IRL.
33. Ode To ARCA Brakes (ARCA, Daytona, 2005)
It`s not enough, it`s not enough, it never was nor will be…
What in the world happened during the 2005 ARCA Daytona 200? Clair Zimmerman took to the skies in his outdated Pontiac and damaged the catchfence despite being at pretty low speed, Blake Feese decided to go bowling in the pit lane BEHIND the pit wall (remember when he was being touted as the next big thing? THAT didn`t go as planned…), and…oh yeah. The crash at the end.
The epitome of `The Next Big Thing…No, Really, I Promise`, Todd Kleuver, made himself known to the world…by barrel rolling down the back chute during a catastrophic pileup that ended the race just past the three quarter mark, though it probably wouldn`t have gone on much longer, as they`d run out of time due to the red flags and slowdown periods (to think Talladega was still 300 miles in 2005…).
About twenty seconds later, the late* Dan Shaver made things worse by refusing to slow the hell down and plowing into another car, sending him airborne and eventually upside down.
…Your future Cup stars, everyone…you know what, I`m curious. Is there ANYONE who was in the field that day who either had a Cup win already or has since won a Cup race? Let me see…
Not including Tim Steele, who probably would have won in the Cup Series if he hadn`t had his accident* in the late nineties, there is one driver who was in the field that day who has since won a Cup race. It`s David Ragan.
32. IT'S A TWISTER! (TC Mouras, Concepcion Del Uruguay, 2016)
Argentina has a massive motorsport fanbase, and has two series at the very top: a touring car series by the name of Super TC2000, or a stock car series called Turismo Carretera, which literally means 'road racing'. Turismo Carretera has been going since 1937, and has not changed ownership since 1939, making it the oldest national racing series in the world.
There are many different Argentine motorsport ladders, and one of them is the following: Turismo Carretera, TC Pista, TC Mouras, and TC Pista Mouras. It's a risky ladder to ascend. If drivers are certain that they want to run in Turismo Carretera, they use these three series to get there. First up is TC Pista Mouras, then it`s TC Mouras, and lastly TC Pista, then it`s off to Turismo Carretera if they`ve proven their worth. This is the risky ladder. Drivers only stay in one particular series for so long before funds dry and/or owners no longer find them a decent cause, but on the plus side, not only does it get them more used to the Turismo Carretera cars (since all three run similar, but slowed down, versions of what the Turismo Carretera runs), but it`s all but guaranteed that a champion will move up in the ranks, along with any other drivers owners found to be talented.
…But on Saturday, November 26, 2016, something…odd happened during one of TC Mouras` races, this one being at Concepcion Del Uruguay, which is actually still in Argentina (it isn`t far from the border, however). Forecast told that rain was coming, which later became a storm. However, no one expected what was going to happen.
A tornado struck when the field was behind the safety car! I`m not sure if this came during pace laps, or during a caution period for rain, but the devastation soon made itself known, as TV cameras picked up what was going on.
Spectators ran for cover, crew members looked to tie objects down, and drivers bailed from their cars and found shelter. Thankfully, it appears that no severe injuries at the track were reported. The race was pushed off by only one day, from what I could gather. TC Mouras raced early the next day at the track to crown its champion.
31. Horrid Lorry (Truck Racing, Brands Hatch, 2011)
Doesn`t seem like people want to stop rolling.
During a tractor trailer race at Brands Hatch in October 2011, one of the last races of the year at Brands Hatch, a truck flipped on its side in Graham Hill Bend, warranting another safety car. Interestingly enough, this had actually been the second flip of this race, as someone had dug into the gravel trap at Paddock Hill and gone flipping earlier in the race.
These beasts, as mentioned previously, are quite slow (mostly due to limitations), but with their focus on passing in the corners due to equal max speeds and rather bizarre center of gravity coupled with high weight, they are beyond fun to watch. When the big trucks crash, they can easily destroy a barrier, and the best move is to pit them on tracks where they will get stuck in the runoff instead of striking the wall.
Oddly enough, a third truck flipped that race, but this one was a little different. While responding to the second turnover at Graham Hill Bend, a pickup truck serving as a fire vehicle went a little too quickly into Paddock Hill and looped. The truck, a Ford Ranger, backed itself into a spin and hooked over itself, sending the two men inside it for a ride unlike any other. Gear and equipment spilled onto the track as the truck flipped onto its lid, some of the firefighting equipment exploding on the track surface. Already on the scene, safety crews rushed over to the truck, which had eventually flipped back over on its own, and pulled the men from the cab, shaken but unharmed.
It`s odd to note that well over a dozen fans posted their angle of the fire lorry`s inversion, but few actually picked up what had happened to it, likely shutting off their devices to conserve power, assuming everything would be typical and boring. Not quite, guys…not quite.
30. Boys… (WTCC, Macau, 2013)
Ah, Macau. Yep, we`re back in Macau.
Now that the WTCC has control over Macau again, I wonder if they`ll be good again. Well, likely better, but until the Hungaroring is removed, it can never be `great`. At least not in my eyes. Whether you`re getting the race cancelled after one lap under green by flipping the car, yet still winning due to the results being taken from the last full lap`s running order, or launching twenty feet into the air and almost going over the catchfencing in an incident literally NO television camera caught*, Macau is intriguing to say the least. Well, let`s get to our next moment.
The second race at Macau in 2013 for the WTCC ended for Tom Chilton when his car blew up at Maternity and slowed to a crawl. Local driver Eurico de Jesus, one of many locals who had gone to owners looking for a ride and one of the few who had gotten one in the WTCC instead of the five or six touring car support races, plowed into the back for him. This was an extremely questionable move, but in the end, it was forgiveable due to the blind corner. Franz Engstler and Yvan Muller stopped their cars, as they were stuck on the outside, but several drivers really couldn`t be bothered to slow down for whatever reason. Macau`s Felipe De Souza, Hong Kong`s Charles Ng, and Macau`s Henry Ho all piled in, ignoring the safety car boards and warranting a red flag, the second of the race…which was promptly ignored.
Yukinori Takaguchi decided to zoom up the hill as the flagmen put down their yellow flags and picked up their red flags, and slammed on the brakes when he reached the accident scene. Thankfully, Takaguchi did not hit anyone. Hong Konger Michael Soong and Macanese one off Jo Merszei did not slow whatsoever and both piled in, Merszei striking Takaguchi`s car several seconds after the red flag had been displayed. It appears that the two were dicing for position and simply decided they wanted to race each other up the hillside instead of slowing for the red flag. Chilton`s Chevrolet, Takaguchi`s Chevrolet, De Jesus` Honda, Soong`s Seat, Ng`s BMW, and Merszei`s BMW were too badly damaged to continue. The race continued after the second red flag, and Robert Huff ended up on the top step of the podium.
29. Steeplechase (NZV8, Pukekohe, 2007)
Speaking of Chase, anyone here remember the show on PBS…what was its name…Cyberchase? That show was amazing!…Oh right, the moment, sorry. Ahem.
NZV8, now New Zealand Touring Car Championship, is basically the Kiwis` answer to Supercars. Not much more to be said, actually. The series briefly split in two, NZV8 and V8 SuperTourers, but both split series started having issues, and they came back together for 2015 to 2016 (the series takes place across the Australian summer) as New Zealand Touring Car Championship. Drivers can choose between four manufacturers, the usual, Holden, Ford, and Nissan, but also have one that isn`t used in Aussie Supercars, Toyota. It is supported by a V8 Ute series (ironically enough, the Aussie V8 Utes have been retired, replaced by a new series called SuperUtes, based off diesel dual cabs, that will start in July), along with another Ute series called the Ssangyong Actyon Utes, which are lighter and somewhat smaller, but about as exciting as the regular guys.
In 2007, they made their usual trip to Pukekohe. Pukekohe in these days was extremely decrepit, with simple steel guardrails that often weren`t well bolted down. A V8 Supercar famously took out a pole on which a PA transmitter was situated in 2005, warranting a red flag. In 2008, a pileup during the NZV8 race saw one car break one of the gates and four cars get on top of the guardrail, which folded, allowing two of them to go over the wall.
But Jarod Carlisle showed just how ridiculous this track once was. He got turned around on the back chute in 2007 and took a wild ride over a horse jump.
Pukekohe`s also a horse facility, and is used for both standard races and steeplechase. However, for one reason or another, officials simply didn`t feel like taking down the horse jumps after a steeplechase competition, and in these days there wasn`t a guardrail to the inside of this part of the back chute. In fact, this wasn`t the first time the jumps hadn`t been taken down, but it was the first time I`m aware of that a driver vaulted one. The red flag was flown for this.
After 2008, Pukekohe dropped off the V8 schedule, but returned in 2013 as a new and improved facility with proper tire walls, runoff, barriers where needed, and a new chicane at the end of the back chute. It`s stayed on ever since.
28. Did I Do That? (Formula Palmer Audi, Snetterton, 2003)
Yep, you did that, all right.
Formula Palmer Audi…not much more to say, really. It was a good open wheel league that mostly ran in Britain and also had one of the best league names I`ve ever heard. PALMER AUDI…that sounds awesome, doesn`t it?
All right, onto the moment. Glenn Kinnersley`s car stalled in the runoff at Snetterton in 2003 and the safety car was warranted. Glenn stayed in the car, ready to see if it would restart once he got a tow back onto the circuit. The open wheeler, however, would be junk in a few seconds.
Officials ran over and alerted Glenn that he would not be allowed to continue on in the race. Glenn, disappointed, remained in the car, perhaps intending to wait for the car`s trailer to be driven over to the access point where he`d be towed to so they could ship it off for repairs, as there was little point in remaining at the facility.
The tow truck driver headed straight, Glenn`s car following it on a tow line, but a few seconds into the ride, the, the open wheeler went sideways. The tow truck driver, apparently not noticing, did not turn his vehicle to compensate, and allowed the open wheeler to shoot out completely sideways. It snagged a rut, but the tow driver, still not noticing, kept going. At this point the officials, who had been focusing on keeping the truck off the racing surface rather than watching where Glenn was headed, radioed him to stop, which he did, but Glenn`s car was wrecked.
After snagging the rut, the truck had actually pulled the car with so much force that, not having many places to go, Glenn`s vehicle was pulled onto its top. Aaaaand that`s a red flag. Thanks, guys.
27. lasreveR eloR (GP2, Monza, 2016)
Sergio, Sergio, Sergio…
Sergio Canamasas, everyone! Sergio Canamasas, if you don`t know, is a native of Spain who races in GP2. He's very fast, but he's also very aggressive, and is prone to idiotic mistakes. He's caused a lot of dumb incidents and has been penalized on several occasions. However, when the stars align and he finishes a race, he usually runs very well, which is why he's still around.
Arthur Pic, brother to Charles Pic, was racing with Sergio at the 2016 GP2 round at Monza when he forced the issue into Lesmo 1 and Sergio ran off a bit. Sergio, not willing to back off, stayed alongside Pic, and into Lesmo 2, Pic forced Sergio towards the runoff again. Sergio wasn`t about to go off into the sand, and kept his line at the track`s absolute outside. Arthur had dived so far in, however, that it was clear that he hadn`t even considered the chance that Sergio would keep his line, which he had every right to do. Keeping your line when you`re being driven towards the track`s outside is dumb, but you have every right to hold your line if you`re being driven towards the runoff. Arthur didn`t consider this, and the two collided, sending Sergio Canamasas over in Lesmo 2. Both drivers were unhurt.
…I know I just dedicated this segment to making fun of Sergio Canamasas, but really, think about it. Something is bizarre if it`s unlikely to reoccur anytime too soon. Sergio probably won`t be getting into any accidents that he was 100% blameless in anytime too soon.
Notes:
Worst: The 1996 Monaco Grand Prix had three finishers.
Champ Car: CART was renamed Champ Car in 2004.
Fiasco: Due to some infighting between organizers and promoters, the 1997 Indy 500 had 35 starters instead of the classic 33.
Late: Dan Shaver died of cancer in 2007.
Accident: Just when he was about to move up to the Cup Series in 1998, Tim Steele was involved in a testing crash at Atlanta. He was never the same again.
Caught: I pretty much just described exactly what happened to Kevin Magnussen in 2011. He was uninjured.